Boykin Chiropractic Care offers a variety of products and supplements to help you achieve your overall health goals. Below are the highlights of the products that we carry.
Nutrition can also be an intricate part of your healing and health care. Dr. Boykin offers a full line of physician grade nutritional supplements such as Vital Nutrients, Standard Process and Chiropractor's Blend. Orthopedic supports and pillows are available. Custom made shoes and orthotics are also offered at Boykin Chiropractic Care by Foot Levelers using the Kiosk Scanner. The Foot Leveler scanner identifies asymmetries in the feet with arch height mapping; illustrates how the feet impact your entire body and generates a foot assessment in under 60 seconds.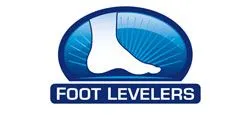 Custom made and handcrafted from the highest-quality materials with patented processes to assure the best outcomes. Foot Levelers Stabilizing Custom Orthotics were developed by a doctor to treat the body as a functional unit, starting with the feet. Get the style and brands that work for your lifestyle.
---

Chiropractor's Blend™

Chiropractor's Blend™ has dedicated itself for years to helping people and families like yours reach their goals with their health and nutrition needs. They believe that nutrition plays a vital role for a complete lifetime of health and wellness, which also incorporates chiropractic care, fitness and the food choices you make for you and your family.

Using GMP Certified and Certified Organic manufacturing, Chiropractor's Blend™, sets high standards for purity and quality, creating award-winning nutrition. Years of combined experience in the international sourcing of raw materials, allows Chiropractor's Blend™ to deliver consistent high quality raw materials for each product, while still ensuring competitive prices.
Use CODE: DBoykin01 to receive 5% off your online order.

---
Vital Nutrients

Boykin Chiropractic Care carries Vital Nutrients. Vital Nutrients is dedicated to manufacturing high quality supplements that promote health, wellness and vitality. They have stringent standards and extensive laboratory analyses has led to their supplements being used and trusted by hospitals, healthcare practitioners and consumers worldwide. Nothing is more important than the quality of their supplements.
Vital Nutrients products may help support specific health concerns, as well as complement an existing healthy lifestyle. And because they independently test each and every raw material and finished product at U.S. labs, purity and potency can be guaranteed in every capsule.
---
There Is a Holistic Synergy in Everything We Do
At Standard Process, we go to great lengths to fulfill our mission of changing lives – from cultivating nutrient-dense soil on our certified organic farm to formulating new products at our Nutrition Innovation Center. Our unwavering focus on quality and testing allows us to manage the purity, safety, and consistency of our supplements. We stand by our quality by ensuring what goes into our products every step of the way with our vertically integrated processes. We then work with our practitioners to ensure the best outcomes for their patients.
---
LubriSynHA Human Joint Supplement
Age and exercise can break down synovial fluid – the naturally occurring fluid that cushions and protects every joint in the body – leading to bone-on-bone friction and inflammation. The resulting pain can impact with athletic performances and interfere with daily activities.
LubriSynHA is an oral application of high-molecular weight Hyaluronic Acid (HA) which is bio-identical to the synovial fluid found in our joints. This revolutionary science surpasses many of the available products on the market, especially glucosamine and chondroitin, and is much safer than many prescriptions.
---
ADJUSTABLY YOURS Pillow
MEMORY PILLOWS THAT FIT INDIVIDUAL NEEDS & PREFERENCES


The Adjustably Yours™ Pillows feature 'higher' and 'lower' sides as well as contour variance for maximum individual support and comfort, regardless of your sleep position. The pillow's clever design encourages proper alignment of the neck and back. When side-sleeping, the scalloped under-edges allow shoulder to fit snugly under pillow. Boykin Chiropractic Care is proud to offer such technology in a pillow.
Adjusts easily to 3", 4", 5" or 6" heights by removing or adding foam inserts.

Head and neck are cushioned and supported during sleep.

One pillow suits all.

Designed to help alleviate and avoid neck and shoulder stress and muscle stiffness in both new and old injuries.

Pillow's contour may help minimize light snoring and enhancing the airway through encouraging better spinal alignment.

Open cell foam structure prevents air stagnation in pillow. Channels in surface of pillow encourage air circulation for a cooler, healthier sleep.
---
Therabeads Moist Heat Packs
TheraBeads Microwavable, allows up to 20 minutes of moist heat treatment. No hydration required. TheraBeads Professional Packs are designed for the demands of the professional market. The reflective heat barrier allows moist heat to be emitted through one side only, maximizing moist heat therapy. These packs have an extra long-life and durable fabric. Stop by Boykin Chiropractic Care today to purchase one.
---
Chattanooga ColPaCs® Cold-Therapy Packs
There is a ColPaCs® for every application. Cold Therapy is for injuries, swelling, sprains and strains, bruises, tension headaches and muscle soreness. With a heavy, flexible, blue vinyl casing and silicate gel filling, it will outlast other economy models. These packs withstand shaping and bending and will not become brittle, crack, or leak even after hundreds of applications. One of our ColPaCs® is what you will want for any of your immediate relief needs. We get a lot of positive comments on the way these packs feel.